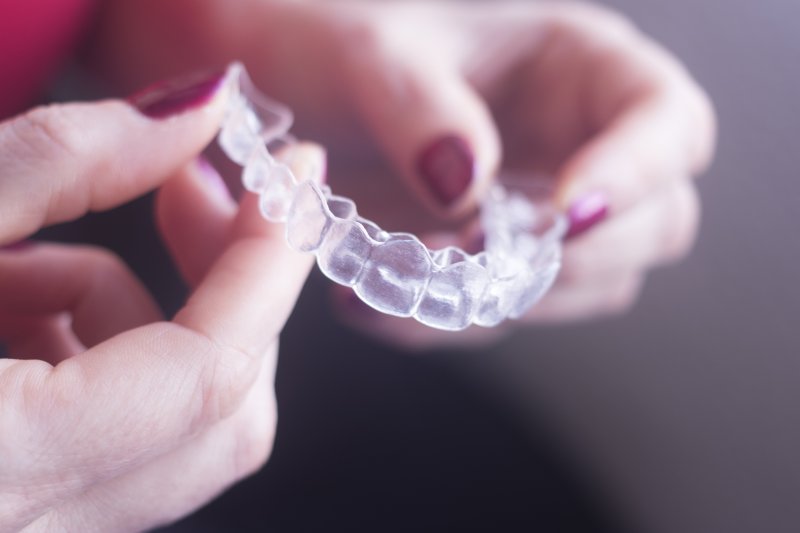 If you have misaligned teeth, you're probably researching your options to address your concerns. Well, Invisalign is an excellent solution to consider! The clear aligners use constant, gentle pressure to shift teeth into more ideal positions. Plus, they're virtually invisible, meaning people will hardly notice you're undergoing orthodontic treatment. Although it sounds like the perfect alternative to metal braces, there are a few things you should know before moving forward with the process. Here's what to expect.
You Wear It Most of the Time
For successful treatment, you must commit to wearing your clear aligners consistently and as directed by your dentist. If you fail to wear them for the recommended 20 to 22 hours a day, you risk extending the length of your treatment – and that can cost you more time and money down the line.
The Aligners Are Virtually Invisible
One of the most attractive benefits of Invisalign is its subtlety. Because of the clear plastic, the aligners look virtually invisible when you're wearing them. However, the trays tend to look discolored towards the end of a cycle. Make sure you clean them thoroughly and as instructed to prevent staining!
There Will Be Speech Alterations
When you first start wearing your clear aligners, it could affect your speech, and you might have a minor lisp. Your first instinct may be to speak as little as possible to hide the impediment, but practice is essential to get rid of it! Once your mouth and tongue get used to the trays, your speech will return to normal.
More Attachments Might Be Necessary
Depending on the complexity of your case, you might receive more attachments than anticipated. These usually include enamel-colored ridges that bond to your teeth to move them more effectively. Keep in mind that you will look like you're wearing clear braces with these attachments in place.
You'll Have More Dentist Appointments
People without orthodontic treatment must see their dentist bi-annually for routine cleanings and exams. However, those with Invisalign must see their dentist every six to ten weeks to ensure that treatment is going smoothly.
They'll Need to Be Removed Before Eating or Drinking
Although there are no dietary restrictions during Invisalign treatment, you must remove your aligners before eating or drinking anything that's not water. Otherwise, you risk damaging or staining the trays. Keep in mind that you still have to meet the mandatory wear-time of 22 hours a day, so fit all your meals and snacks in two hours.
You Must Wear a Retainer After Completing Treatment
Once your teeth are officially straight, you will be given a retainer to preserve your results. For the first few months, you might be required to wear it all day every day. But after that, you should be okay to wear it only at night. However, each patient is different, so be sure to ask your dentist what they recommend for your case.
Now that you know what to expect from Invisalign, you can decide whether it's the right choice for you. If you're ready to move forward with the process, contact your dentist and ask how you can start your journey towards a beautifully straight smile!
About the Practice
At Wolfe Dental, we make sure every patient that walks through our doors receives the exceptional, high-quality, individually tailored dental care they deserve. Our team is passionate about creating long-lasting and trusting relationships with our patients. We will do everything possible to meet all your oral health needs and goals. If you have misaligned teeth, we can help you achieve a straighter smile with Invisalign. To learn more about this orthodontic solution, visit our website or call (503) 844-6550 and schedule a consultation.