Veneers – Hillsboro, OR
The One-Stop-Shop of
Cosmetic Treatments
Many people don't just have one type of smile imperfection that they want to get fixed when they come to us for a cosmetic consultation. If you have dental discoloration, damaged teeth, or any other issues, you may benefit the most from veneers in Hillsboro. Instead of needing to invest in multiple different treatments to fix these issues, you can just get one! To learn more about porcelain veneers or find out if they're the right choice for you, contact our office today to schedule a consultation with Dr. Wolfe!
Why Choose Wolfe Dental for Veneers?
Fix Several Different
Types of Flaws at Once
Experienced
Cosmetic Dentist
High-Quality Dental
Porcelain Veneers
What are Veneers?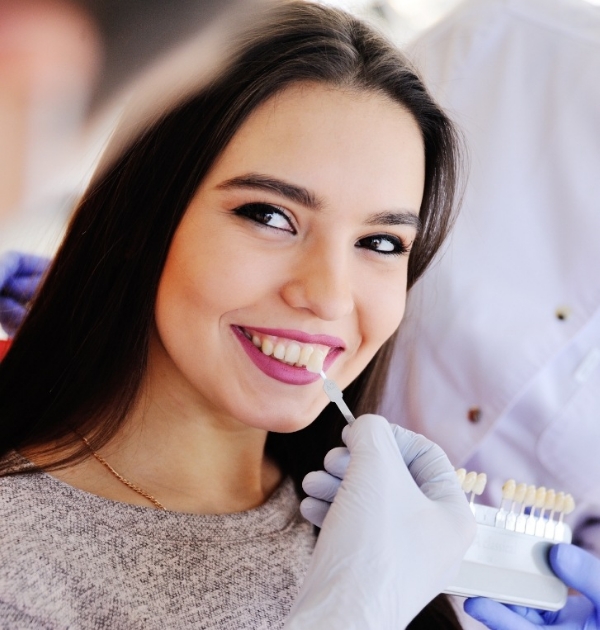 Dental veneers are thin, durable shells that are custom-crafted to cover the visible surface of individual teeth. That means that whether you just have one damaged or discolored tooth or several, you'd still be a good candidate for this procedure. Once they're cemented to your natural, prepared teeth, they'll reveal a completed, bright, and flawless smile. Although your veneers themselves can't get cavities, your teeth underneath them still can, so it's important to continue keeping up with your oral hygiene routine to make sure they last.
The Benefits
of Veneers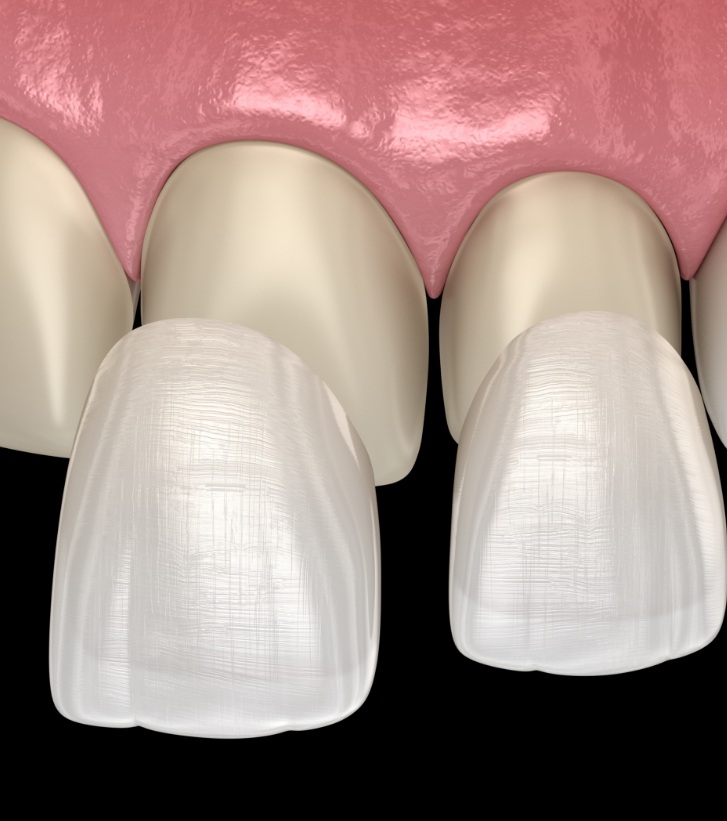 Patients who get porcelain veneers will be able to enjoy a variety of benefits, including:
Veneers can boost your confidence and help you feel more comfortable interacting with others.
Veneers are a versatile cosmetic procedure that can fix several imperfections at once.
Each veneer is made from stain-resistant dental porcelain.
Dental porcelain can be custom color-matched to your enamel, making them indistinguishable from natural teeth.
With regular maintenance, veneers can last for 15 or more years.
Veneers are easy to maintain.
Candidates
for Veneers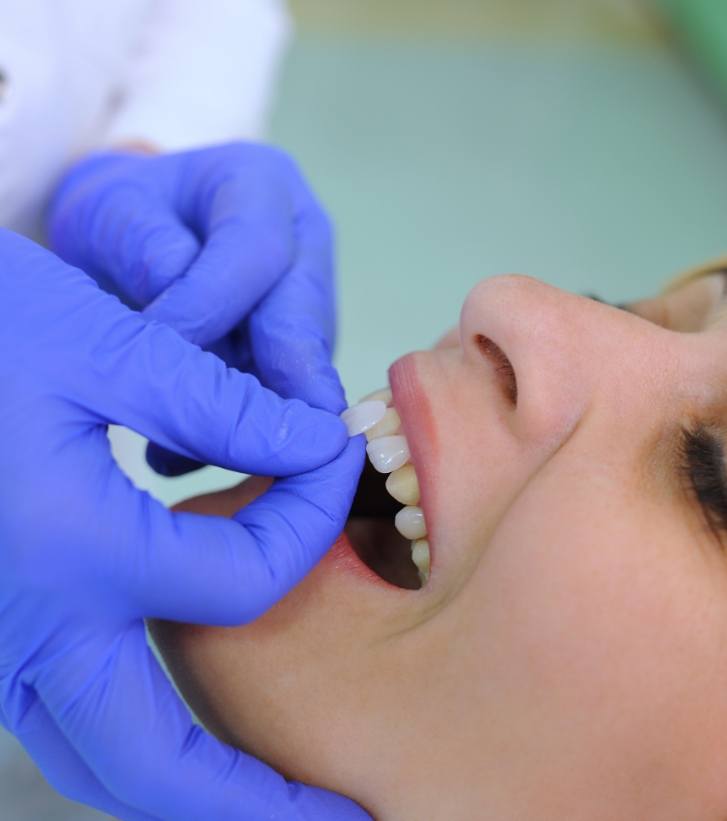 To learn whether you're a great candidate for porcelain veneers, it's a good idea to schedule a consultation with Dr. Wolfe. We may suggest this treatment for you if you face any of these cosmetic flaws:
Severely stained teeth
Minor dental damage
Gaps between teeth
Several different cosmetic issues
It's also important that you have good overall health and are dedicated to routine brushing and flossing as well as visiting us every six months for a checkup and cleaning. This way, we can make sure that your teeth and gums are healthy, because they support your veneers.
Veneers FAQs
Veneers in Hillsboro are truly the one-stop shop of cosmetic treatments. However, it's natural to have some questions before you feel confident in choosing them. While we'll be happy to go over all the information you'll need during your consultation, we've gathered some of the most common questions we get about this popular service below for your convenience. If you don't see the answers you're looking for or if you're ready to get started, don't hesitate to give us a call.
How Long Does It Take to Get Veneers?
In most cases, it takes two quick and easy appointments to get veneers. During your first visit, we'll prepare your teeth by removing a thin layer of enamel and lightly etching the surface. Then, we'll take impressions of the area that will be used to create your veneers and place temporary ones on your prepared teeth. In about two weeks, you'll return to our office to have them removed and replaced with your brand-new, completely custom permanent veneers.
Do Veneers Feel Like Real Teeth?
The dental porcelain our veneers are crafted from is very smooth and won't irritate your gums or other soft tissues in your mouth. Removing a thin layer of enamel before placing your veneers ensures that they lay flush with the rest of your smile and look completely natural. While some minor tooth sensitivity is normal for a day or so after your treatment, our patients are happy to report that their veneers feel completely natural inside their mouth, to the point where they don't notice them at all while eating, drinking, or talking.
Are Veneers Permanent?
When considering veneers, it's important to keep in mind that the process is irreversible. Enamel does not grow back on its own, so the prepared teeth will always need to be protected with a veneer. Thankfully, you can easily expect your veneers to stay in place for many years to come! Most veneers last 15 years or more before needing to be replaced.
How Many Veneers Will I Need?
Each veneer is custom-made to fit over the surface of one tooth, so how many you need depends on how many teeth you'd like to improve. While you could potentially get a single veneer on one imperfect tooth, we usually recommend getting an even number of veneers. Getting veneers on the front two, four, six, or eight teeth typically offers the most seamless results.
How Can I Make Veneers More Affordable?
When compared to other cosmetic treatments, veneers fall on the expensive side. Since they are not usually covered by insurance, many patients wonder if there is a way to make paying for veneers in Hillsboro more affordable. At Wolfe Dental, we want to make it as easy as possible for our patients to achieve the beautiful smile they deserve, so we'll be happy to review all your payment options. This could include financing through CareCredit, which is a third-party company that offers low- to no-interest payment plans. These will help you break up the cost of your treatment so you can pay for it over the course of several months to a year and fit it into your budget.