Dental Implants – Hillsboro, OR
The Best Modern Tooth
Replacement Treatment
Some of our patients are looking for a more stable, longer-lasting, and lifelike replacement for their missing teeth that traditional options don't feature. Dental implants boast all of these benefits and more. By restoring the entire structure of missing teeth, including the roots, they're able to replicate the look and feel of homegrown teeth, so you can feel more confident and comfortable than ever. To learn more about this treatment and how it can benefit you, take a look below!
Why Choose Wolfe Dental for Dental Implants?
Start-to-Finish
Dental Implant
Procedure
All-on-4
Implant Dentures
Available
Advanced CT/Cone
Beam Scanner Imaging for Precise Planning
What is a
Dental Implant?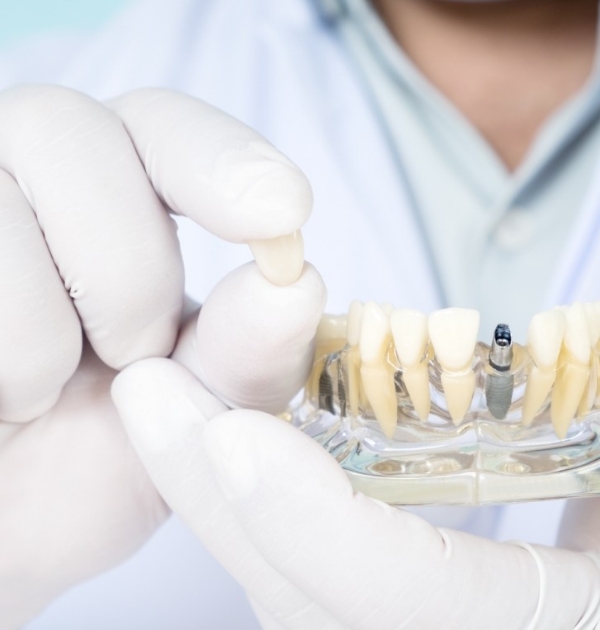 Dental implants are small titanium posts that are surgically placed below your gum to restore the root structure of a missing tooth. Because they're made of a biocompatible metal, they're able to undergo a special process called "osseointegration", where they chemically fuse with the jawbone to provide your restorations with a steady foundation. A small metal connector piece called an "abutment" will then be attached to the top of the implant, followed by a custom-crafted crown, bridge, or denture to rebuild your smile.
Benefits of
Dental Implants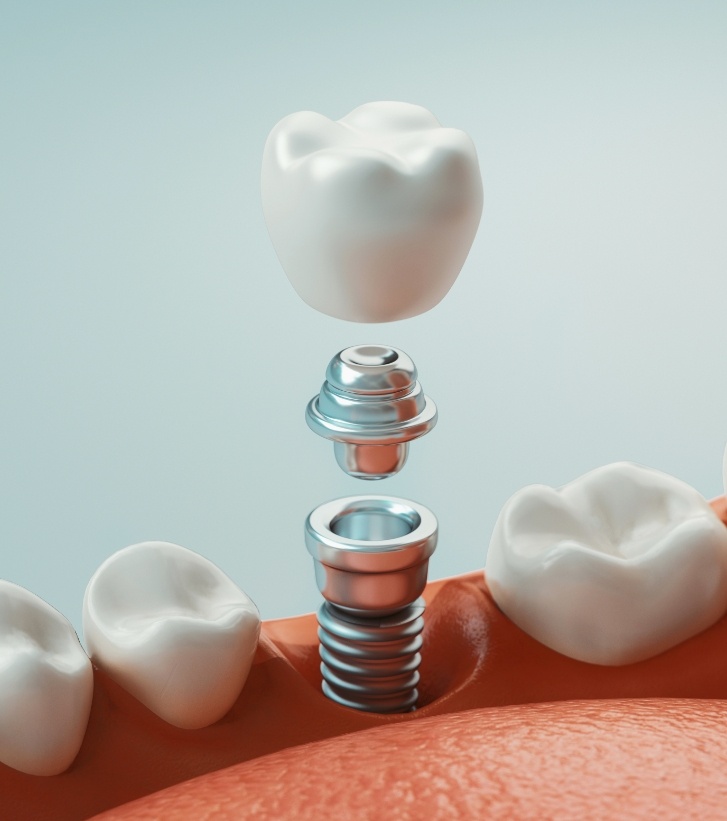 Dental implants come so highly recommended by patients and professionals alike because they offer a variety of unique benefits that set them apart from traditional tooth replacement solutions. Some of these advantages include:
Natural Looking & Feeling: Dental implants are the only restorative treatment that repairs the part of your missing tooth that lies below the gum.
Enhanced Chewing Ability: Due to osseointegration, dental implants provide you with a stronger and more stable bite because you won't have to worry about your implant-retained restorations slipping.
Easier to Speak: Just like with chewing, you won't have to worry about your restorations moving in your mouth, causing you to slur your words.
98% Success Rate: Dental implants are a highly successful procedure, especially when you visit a professional who uses the latest technology to conduct the treatment.
35+ Year Lifespan: As long as you keep up with the health of your mouth, you can enjoy your implant-retained restorations for decades to come.
No Damage to Your Surrounding Teeth: Unlike with traditional procedures, like the placement of a bridge, dental implants don't require the alteration of your surrounding, healthy teeth in order to support a restoration.
Jawbone & Facial Structure Preservation: Since your dental implants are fused with your jawbone, they're able to provide it with regular stimulation like the roots of your teeth did. This prevents your jawbone from deteriorating and causing your cheeks to appear sunken-in or droopy.
Are Dental Implants
Right for You?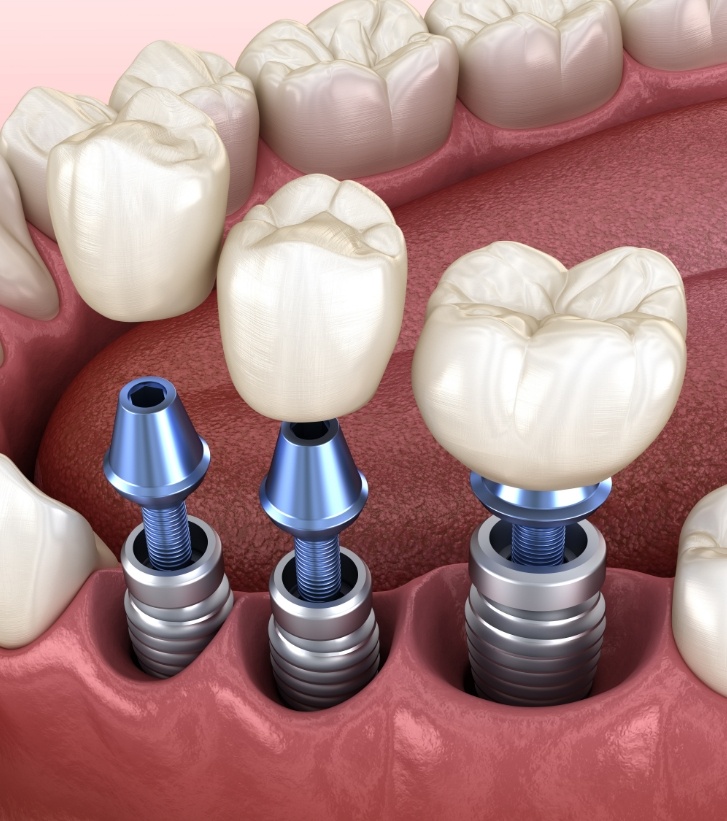 To learn whether dental implants are the right treatment for you, you'll need to schedule a consultation with Dr. Wolfe. During this appointment, our team will take X-rays of your mouth and conduct a visual examination of your teeth and gums. While we're doing this, we'll be keeping an eye out for some key factors that could influence how you heal after the dental implant placement and how high of a risk you're at for implant failure, including:
Do you have an untreated medical condition that impacts your immune system?
Have you suffered from jawbone loss?
Are your sinuses located close to your jawbone?
Do you smoke or have bad oral habits?
Are you dedicated to maintaining good oral hygiene?
Do you have any lingering, untreated oral health problems?
Even if you aren't a great candidate right away, it may just take some time and a few preparatory procedures to get you there. Once we've determined whether or not you're a good candidate, we'll develop a customized treatment timeline and walk you through it so you know exactly what to expect.
Missing Single Tooth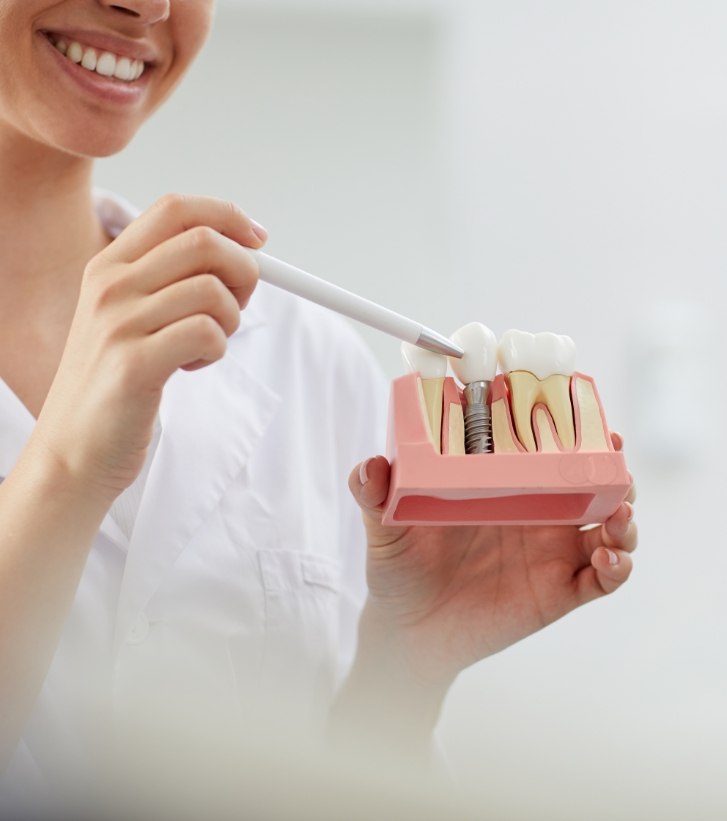 If you're missing a single tooth, we can replace it by surgically inserting an implant into your jawbone. Once you've undergone the process of osseointegration and healed from the procedure, we'll place the abutment and a custom-crafted dental crown to the implant to complete your arch of teeth.
Missing Multiple Teeth
If you're missing two or more teeth in a row, instead of having to alter your surrounding teeth to place a traditional bridge, we can simply anchor it to two dental implants. Each implant will be surgically inserted at either end of the gap in your smile to secure the dental bridge in place.
Start-to-Finish Convenience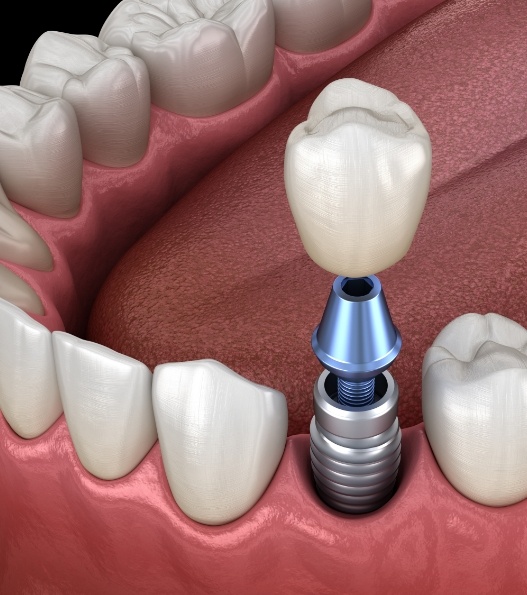 Dr. Wolfe and our staff have extensive additional training that allows us to complete the entire dental implant procedure under our roof. That means that you won't need to be worried about being referred to another team that you've never met before to complete half of the process! You'll be able to stick with the same trusted professionals all the way through. After your consultation, we'll set up your implant surgery. Once you've healed from your procedure, we'll ask you to come back for your abutment placement and for us to secure your restoration to complete your smile.
Understanding the Cost of Dental Implants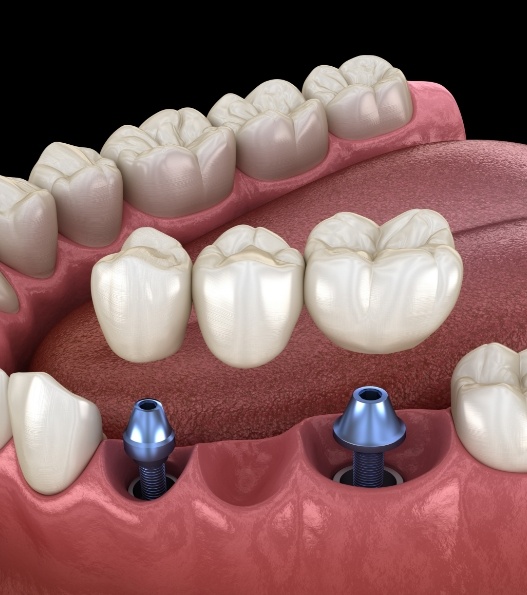 Patients who have had this procedure will agree that it's well worth it. Once you get your replacement teeth, you won't have to worry about getting new ones for up to several decades down the road, unlike with traditional restorations that you need to replace every five to seven years. At your initial consultation, our team will outline the cost-determining details of your plan with you and discuss payment and financing options.