Dental Implants – Hillsboro, OR
Truly Modern Tooth Replacement
Are you looking for a more stable, longer-lasting, and lifelike tooth replacement than what dentures and dental bridges can offer? If so, allow us to recommend dental implants. By restoring the entire structure of missing teeth, including the roots, dental implants in Hillsboro, OR are able to replicate the look and feel of homegrown teeth, so you can feel more confident and comfortable than ever. To learn more about this treatment and how it can benefit you, call our Wolfe Dental team today to schedule your consultation!
Why Choose Wolfe Dental for Dental Implants?
Start-to-Finish
Dental Implant
Procedure
All-on-4
Implant Dentures
Available
Advanced CT/Cone
Beam Scanner Imaging for Precise Planning
What Are Dental Implants?
Dental implants are small titanium posts that are surgically placed below your gums to restore the root structure of a missing tooth. Because they're made of a biocompatible metal, they're able to undergo a special process called "osseointegration", where they chemically fuse with the jawbone to provide your restorations with a steady foundation. A small metal connector piece called an "abutment" will then be attached to the top of the implant, followed by a custom-crafted crown, bridge, or denture to rebuild your smile.
The 4 Step Dental Implant Process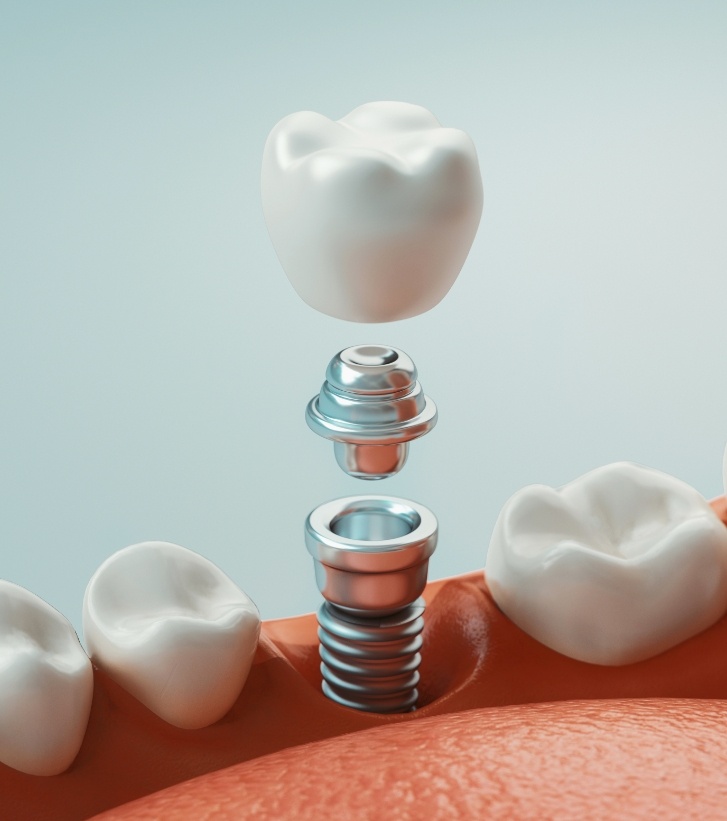 Our dentists have completed extensive additional training that allows us to perform the entire dental implant procedure in one convenient location. That means you won't need to worry about being referred to another team you've never met before to complete half of the process! You'll be able to stick with the same trusted professionals every step of the way. Even though every patient's treatment plan will look slightly different, there are four main steps you can expect to go through.
Initial Dental Implant Consultation
During your consultation, our team at Wolfe Dental will conduct an oral examination and review your medical history to determine whether or not you're a candidate for implants in Hillsboro. If you have any underlying issues, we'll recommend the appropriate treatments to get your oral health on the right track. Some common preliminary procedures include periodontal therapy, tooth extractions, and bone grafting. Once your mouth is ready for dental implants, we'll move forward with the process and plan the rest of your treatment.
Dental Implant Surgery
Believe it or not, dental implant surgery is a fairly simple procedure. First, we'll numb your mouth with a local anesthetic and administer sedation if needed. We'll make an incision in the gum tissue to access the jawbone and insert the dental implants. Each post is inserted at a precise location and angle using advanced technology and techniques. After your gums are sutured shut, we'll place a protective cap over the posts to protect them throughout your recovery.
Dental Implant Osseointegration & Abutment Placement
Osseointegration is a natural biological process that allows the implants to fuse with the surrounding bone tissue. It's a crucial part of your recovery, taking about three to six months to complete. Once you're all healed up, you'll return to the office for a second smaller surgery to receive your abutments. They're the metal connector pieces placed on top of your implants, serving as an anchor for your final restoration (i.e., crown, bridge, or denture).
Delivery of Dental Implant Restorations
While you heal, a trusted dental laboratory will create your final restorations using impressions of your natural smile. Each crown, bridge, or denture will be crafted from materials that mimic the tooth enamel. Once your new teeth are attached to your abutments, you'll be ready to make the most out of your complete, fully functioning grin!
Benefits of Dental Implants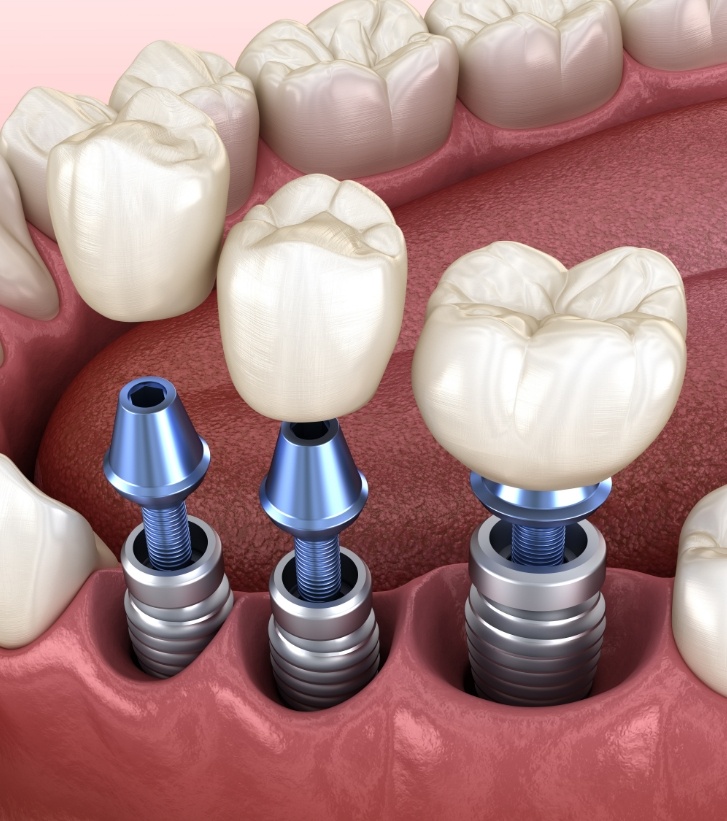 In recent years, dental implants have become the treatment of choice for patients wanting to replace their missing teeth. Over 500,000 are placed every year, making them one of the most popular tooth-loss solutions. Dental implants come so highly recommended by patients and professionals alike because they offer a variety of unique benefits that set them apart from traditional tooth replacement options. If you'd like to learn more about the advantages of this treatment, continue reading or give our office a call today!
Day-to-Day Benefits
We use our teeth every day to eat, speak, and smile. Because of that, it only makes sense that you'd want something that will allow you to live your day-to-day life to the fullest. Fortunately, dental implants in Hillsboro offer multiple advantages, including:
Natural-looking & feeling – Dental implants are the only tooth replacement that repairs the part of your missing tooth that lies below the gum.
Enhanced chewing ability – Due to osseointegration, dental implants provide you with a stronger and more stable bite because you won't have to worry about your new teeth slipping.
Easier to speak – Just like with chewing, you won't have to worry about your prosthetics moving in your mouth, causing you to slur your words.
Health Benefits
Aside from improving your daily quality of life, you can enjoy several health benefits, such as:
No damage to your surrounding teeth – Unlike traditional procedures, like the placement of a bridge, dental implants don't require the alteration of your surrounding healthy teeth in order to support a restoration.
Jawbone & facial structure preservation – Since your dental implants are fused with your jawbone, they're able to provide it with regular stimulation like the roots of your teeth did. This prevents your jawbone from deteriorating and causing your cheeks to appear sunken-in or droopy.
Improved overall health – Studies show a correlation between tooth loss and an increased risk of multiple diseases. Because dental implants are so similar to natural teeth, it's reasonable to assume that they can help lower such risks.
Long-Term Benefits
By getting dental implants right now, it can help you out for years to come with the following benefits:
98% success rate – Dental implants are a highly successful procedure, especially when you visit a professional who uses the latest technology to conduct the treatment.
35+ year lifespan – As long as you keep up with the health of your mouth, you can enjoy your implant-retained restorations for decades to come.
Youthful appearance – Since implants stimulate blood flow in the jawbone, they prevent its deterioration and the sunken, aged look that often comes with tooth loss.
Who Dental Implants Can Help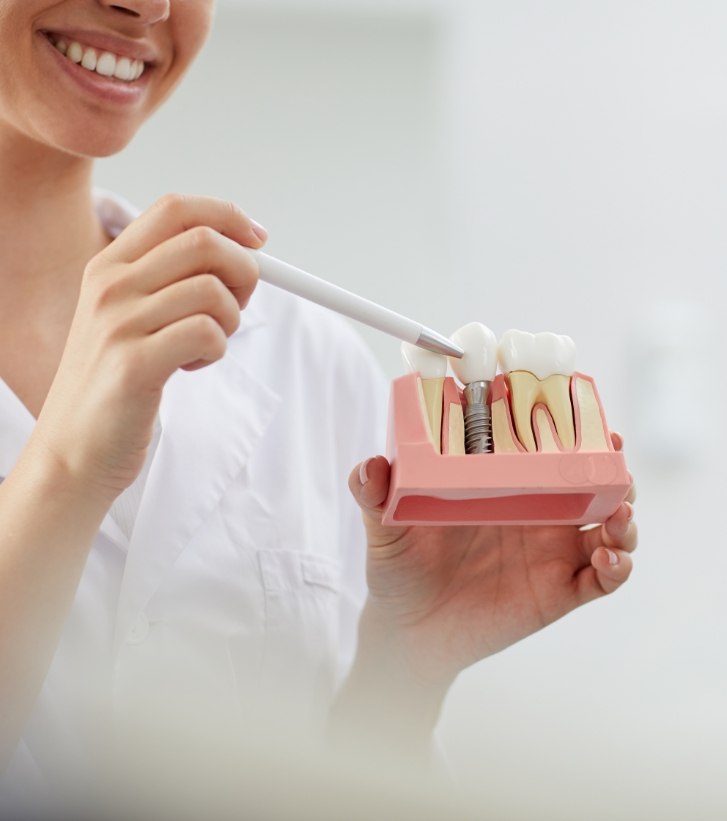 Dental implants in Hillsboro may be able to help you whether you are missing one tooth, a few teeth, or even all of your teeth. When you come in for your consultation, we will examine your mouth and learn about your health to ensure that you are a good candidate for them before we plan the details of your treatment. Most adults with missing teeth do qualify for implants, either right away or after some preliminary treatments.
Who Is a Good Candidate for Dental Implants?
To learn whether dental implants are the right treatment for you, you'll need to contact us to schedule a consultation with your dental implant dentist in Hillsboro, Dr. Wolfe. During this appointment, our team will take X-rays of your mouth and conduct a visual examination of your teeth and gums. While we're doing this, we'll be keeping an eye out for some key factors that could influence how you heal after the dental implant placement and whether you have risk factors for implant failure. Generally speaking, good candidates for dental implants:
Are in fair overall health
Are free of gum disease and other serious oral health problems
Have adequate bone density to support dental implants
Stick to good oral hygiene habits
Even if you aren't a great candidate right away, it may just take some time and a few preparatory procedures to get you there. Most adults can take advantage of dental implants!
Missing 1 Tooth
If you're missing a single tooth, we can replace it by surgically inserting an implant into your jawbone. Once you've undergone the process of osseointegration and healed from the procedure, we'll attach an abutment and a personalized dental crown to the implant to complete your smile.
This type of tooth replacement is superior to a traditional bridge in several ways. For example, it does not usually require that the nearby teeth be modified or extracted. It also replaces the lost tooth from the root up, rather than simply replacing its top portion. It therefore feels and looks as natural as possible.
Missing Multiple Teeth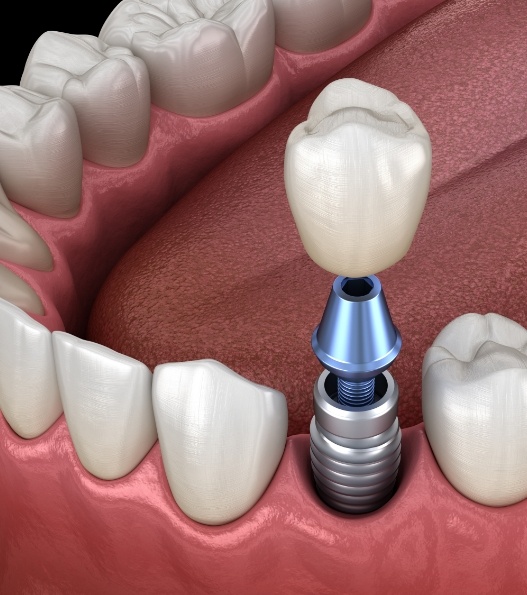 If you're missing three or more teeth in a row, instead of having to alter your surrounding teeth to place a traditional bridge, we can simply anchor it to two dental implants. Each implant will be surgically inserted at either end of the gap in your smile to secure the dental bridge in place.
If you are missing teeth at multiple places throughout a dental arch, we will explore other treatment options. You might qualify for a partial denture. It is also possible that we will recommend multiple single-implant prosthetics to complete your smile.
Missing All Teeth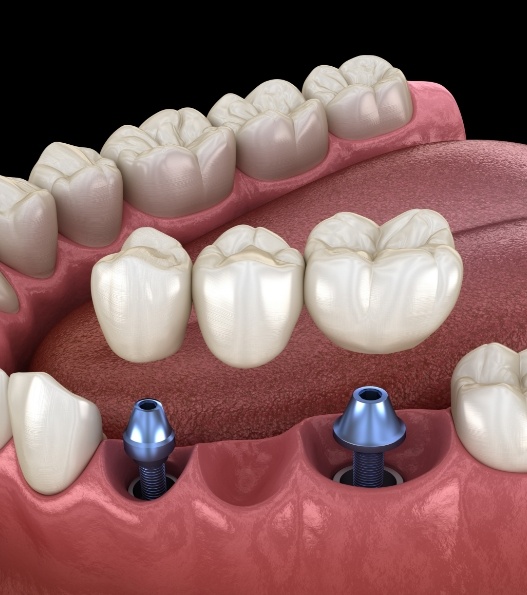 If you're missing all teeth in an arch, we can provide enough support for a full denture by placing only four to eight implants in strategic positions throughout the jaw. Implant dentures address most of the problems that come with regular dentures; these prosthetics will stay in place, have an easy daily care routine, and let you chew whatever foods you want. There are multiple types of implant dentures, including ones that are removable as well as those that are permanently fixed. During your consultation, Dr. Wolfe will help you determine which sort is right for you.
Understanding the Cost of Dental Implants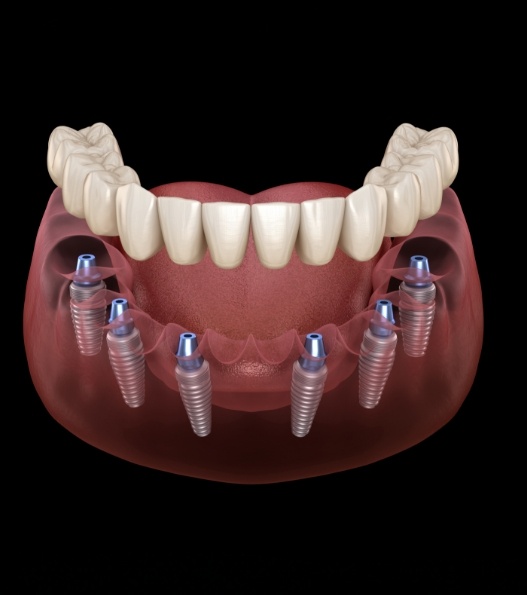 Although dental implants cost more than other forms of tooth replacement upfront, patients who have had this procedure will agree that it's well worth it. Once you get your replacement teeth, you won't have to worry about getting new ones for up to several decades down the road, unlike with traditional prosthetics that need to be replaced every five to seven years. At your initial consultation, our team will outline the cost-determining details of your plan with you and discuss payment and financing options.
Preliminary Treatments & Dental Implant Surgery
Some patients require preliminary treatments, such as gum disease therapy, a bone graft, or tooth extractions before they can receive dental implants in Hillsboro. Each of these procedures has its own cost.
The implant surgery itself incurs a separate fee. Since Dr. Wolfe performs this procedure right here in our office, we can discuss its cost with you right from the beginning of your treatment. You will not need to worry about dealing with the pricing structure of an outside specialist.
The Parts of Your Dental Implant
Not all dental implant treatments are the same. The number of implants you receive, the manufacturer that sells them, the materials involved in creating your restoration, the size of your implants, and other factors will all have a bearing on your total cost. Dr. Wolfe and our team strive to use only the highest-quality products for our patients. Feel free to ask us where your implants are coming from — we will be happy to answer your questions.
How Dental Implants Pay for Themselves
Although the cost of dental implants in Hillsboro is higher than that of other treatments, they offer an excellent value. They tend to last for decades, whereas other types of tooth replacement, such as dentures, need to be replaced every five to seven years. Plus, dental implants offer health benefits that can save you money. For example, they are less likely to cause gum sores than traditional dentures. They can therefore spare you from having to pay for treatment for various oral issues down the road.
Does My Dental Insurance Cover Dental Implants?
Dental insurance plans vary greatly in their approach to implants. Some classify them as a major procedure, meaning they cover 50% of the cost, up to the amount of a plan's annual maximum. Others categorize implants as an elective treatment and offer no coverage at all. Our team will help you navigate your policy and file all necessary claims. We are even in-network with several major insurance companies, so you can trust us to maximize your benefits.
Making Dental Implants Affordable
As your implant dentist in Hillsboro, we want you to be able to afford your new smile. That is why we offer:
Low-interest and no-interest financing through CareCredit
Wolfe Dental membership plan for discounts on most services
A convenient online payment portal
Would you like to learn more about dental implants and their cost? Contact us today to schedule your consultation. We look forward to helping you through your entire treatment journey, including its financial aspects.
Maintaining & Caring for Your Dental Implants
Dental implants can last for over three decades or even the rest of your life. However, it's essential that you take all the proper steps to care for them. If you aren't taking the time to protect your dental implants from becoming damaged, they could end up failing and needing to be replaced. The good news is that with just a few simple precautions, you can keep your implants healthy and enjoy their benefits for many years down the road.
Make Oral Hygiene a Priority
Dental implants can't get cavities themselves, but you still need to practice excellent oral hygiene. In addition to keeping your surrounding teeth in good shape, sticking to a great dental hygiene routine can prevent other dental problems, like gum disease, that can cause your implants to fail. Remember to brush, floss, and rinse with a mouthwash each day.
Eat a Healthy Diet
One of the numerous benefits you can experience from dental implants is that you don't have any eating restrictions. You can easily enjoy a nutritious meal without struggling to chew. Just remember that having too many items that are hard, sticky, or sugary, can be problematic. Remember to eat foods with plenty of calcium and vitamin C to keep your jawbone and gums in good health.
Break Bad Habits
Bad habits can cause your dental implants to fail over time. Refrain from smoking or using tobacco products immediately after your procedure, as they can slow down healing and increase your risk of developing an infection. Don't use your teeth as tools either. You could accidentally end up damaging your dental implant or a surrounding tooth. Instead, find scissors or another tool that can help you complete your task safely.
Protect Your Dental Implants
As strong as your dental implants are, they aren't indestructible. Always wear a mouthguard to protect your dental implants and natural teeth when participating in sports. If you grind your teeth at night, ask about a nightguard to protect your implants from additional wear and tear.
Schedule Regular Dental Checkups
You should always attend your regular cleanings and checkups every six months. This way, we can monitor your dental implants and spot any issues as early as possible. By catching potential problems now, you can prevent them from becoming more serious and leading to greater consequences, like a failed dental implant.
Dental Implant FAQs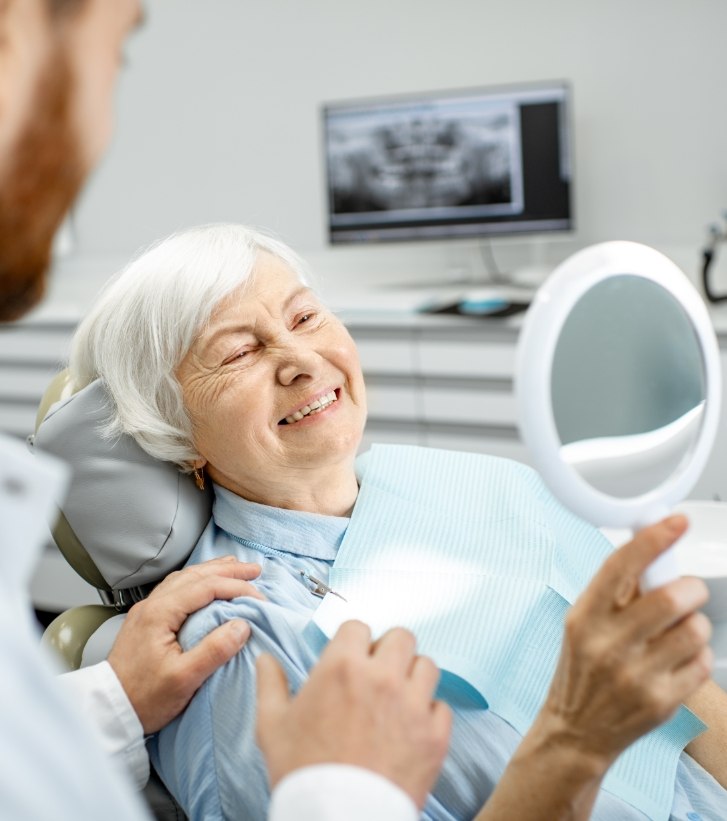 Our dentists at Wolfe Dental are highly knowledgeable on tooth replacement procedures, particularly dental implants. This should give you plenty of confidence if you decide to complete dental implant treatment with us. Of course, you're always encouraged to ask us any questions you have ahead of your decision. For added convenience, we have included our responses to some of the most common questions we've heard at the practice over the years, so feel free to give them a look ahead of your appointment!
Can Dental Implants Fail?
Dental implant failure is typically quite rare and only occurs in about 5% of patients at most. However, if it does occur, it's usually because of failed osseointegration or peri-implantitis. A form of gum disease, peri-implantitis can develop when the gum tissue becomes infected due to poor oral hygiene. If too much damage occurs to the gum tissue and bone supporting the implant, it can fail. Alternatively, the implant can fail to fuse with the jawbone, which is more likely if the patient already had low bone density. Other causes of failure include tobacco use, uncontrolled health conditions that affect the body's ability to heal, certain medications, and chronic teeth grinding. Our office will make sure to perform a detailed exam to confirm a patient's eligibility to receive dental implants before recommending treatment.
Will People Be Able to Tell That I Have Dental Implants?
In order to create the most natural-looking tooth replacement possible, our dentists capture a detailed impression of your mouth. This impression acts as the basis for your future restoration, whether it's a crown, bridge, or denture. After the restoration is attached, no one but you and our office will know that it's attached to a dental implant. Dental implants are not like dentures where you often have to hold your jaw in such a way that keeps them in place, so you can smile and speak with confidence.
Can I Eat Anything with Dental Implants?
Immediately after receiving your dental implants, it's very important that you stick to a soft food diet over the next several days. This way, you do not put excessive force on your still-healing dental implant. We do not recommend eating foods that are particularly crunchy, sugary, or acidic. You should also avoid alcohol, as it can negatively impact your body's ability to heal. With that said, once the implants are fully integrated, you can eat the foods you enjoy without worry. Just use caution when chewing on very hard foods, such as nuts. You should still avoid chewing on ice cubes, as these can damage your teeth and your restoration.
How Soon After a Tooth Extraction Can I Get Dental Implants?
If the jawbone is healthy, a dental implant can actually be placed the same day that a tooth is extracted. However, if the jawbone is not healthy enough, it may need between three to six months to heal before an implant can be placed. Most implant dentists do not recommend waiting much longer than that to place an implant, as the jawbone can begin to shrink and atrophy due to it no longer receiving stimulation from the root. We'll determine the best course of action ahead of your implant surgery.